I think that not many people foresaw what would become of mobile world. The reality is that now we have segmented the mobile industry between BlackBerry, Android, iPhone, Symbian and other. Today we are going to take a quick trip to the past and see how practically out of nowhere Android became what it is today.
About Android (From Wikipedia)
Android is a mobile operating system developed by Google and is based upon the Linux kernel and GNU software. It was initially developed by Android Inc. (a firm purchased by Google) and later positioned in the Open Handset Alliance. Android has a large community of developers writing application programs ("apps") that extend the functionality of the devices. There are currently over 70,000 apps available for Android with some estimates saying 100,000 have been submitted, which makes it the second most popular mobile development environment. Developers write managed code in the Java language, controlling the device via Google-developed Java libraries.
The Android operating system software stack consists of Java applications running on a Java based object oriented application framework on top of Java core libraries running on a Dalvik virtual machine featuring JIT compilation. Libraries written in C include the surface manager, OpenCore media framework, SQLite relational database management system, OpenGL ES 2.0 3D graphics API, WebKit layout engine, SGL graphics engine, SSL, and Bionic libc. The Android operating system consists of 12 million lines of code including 3 million lines of XML, 2.8 million lines of C, 2.1 million lines of Java, and 1.75 million lines of C++.
2003 – Android Inc.
What we know today as Android started as a brand new company by Andy Rubin, Chris White, Nick Sears and Rich Miner. Originally it was intended to be a mobile software development and technical solutions. They were, at the time, began developing a Linux-based operating system for cell phones and other mobile devices. Their main marketing targets were handset makers and carriers. An easy operating system that was flexible and upgradeable at the same time.
2005 – Google buy Android Inc.
In what was becoming typical of Google's acquisition strategy, a quota of buying a company per year, the search giant quietly bought (at the time) the wireless start-up in July 2005 for a sum that today it is still not clearly disclosed for general public but it is strongly rumored to be around $50 millions. At Google, the team led by Rubin developed a mobile device platform powered by the Linux kernel which they marketed to handset makers and carriers on the premise of providing a flexible, upgradeable system. It was reported that Google had already lined up a series of hardware component and software partners and signaled to carriers that it was open to various degrees of cooperation on their part. It was obvious at this time that Google was readying weapons to enter the warfare called "mobile industry".
What we know today as Android, started out as a project using a modified
kernel
(Practically the vertebral column of an
Operating System
) of Linux. The design included programs that enable the OS to be upgradeable. Google had already at the time several hardware components and patent filed as testing currently went on.
2007 - The Open Handset Alliance was born with Android officially announced
During 2007, several top-manufacturing and mobile providers joined in a effort on creating open standards, as a business alliance between Google, HTC, Dell, Intel, Motorola, T-Mobile, Sprint, Qualcomm, Texas Instruments, Samsung, LG, Nvidia, and River Systems. Afterwards the alliance announced that they were using a new product called "Android" as an alternative to already established phones and programs as iPhone, BlackBerry, Symbian, etc.
For more information of the OHA, visit them
here
.
2008 – G1…Welcome Android
The HTC Dream, also know in T-Mobile USA as G1, was the first device with Android as operating system. Originally with Android 1.6 (discussed later), market a new beginning. The phone market as the first official product from the Open Hanset Alliance and released worldwide on October 2008. The price at the time started as $129.99 with a two-year contract with T-Mobile in the USA. The phone supported 3G and was built with a sensitive touchscreen with a physical, landscape QWERTY keyboard. Flash Memory of 256MB with 192MB RAM. Supporting aup to 16GB MicroSD card and CPU 528 MHz Qualcomm processor.
Android Devices
Mobile phones manufacturers


Acer
Dell
Bluelans Communications
CSL
Dell
Garmin
Geek's Phone
HighScreen
HKC
HTC
Huawei
i-Mobile
Lenovo
LG
Motorola
Pantech
Qigi
Samsung
Sony Ericsson
ZTE
Nexian

Tablets manufacturers


Archos
Augen
Camangi
Dell
EKEN
Flat Computing
Hardkernel
Enso
Levono
Mastone
MoonSE
Nationite
Smart Devices
Jointech
1&1
Utopia Technology
Orphan Electronics
Dawa
Android Versions (as of September 2010)
1.5 – Cupcake
Fast, smooth typing with the on-screen virtual keyboard
Easy access to favorite apps, contacts, bookmarks, and more via home screen widgets and live folders
Video recording, playback, and sharing
Full web experience with enhanced browser
Hands-free calls and listening with stereo bluetooth
Lots of UI refinements and performance improvements to the overall phone experience
New APIs and elements to enable even more innovative apps from developers
1.6 – Donut
Android 1.6 includes a redesigned search framework that provides a quick, effective, and consistent way for users to search across multiple sources—such as browser bookmarks & history, contacts, and the web—directly from the home screen.
The system constantly learns which search results are more relevant based on what is clicked. So popular contacts or apps that have previously been picked will bubble up to the top when a user types the first few letters of a relevant query.
The search framework also provides developers a way to easily expose relevant content from their applications in Quick Search Box.
Camera, Camcorder, and Gallery
An updated user interface provides an integrated camera, camcorder, and gallery experience. Users can quickly toggle between still and video capture modes. Additionally, the gallery enables users to select multiple photos for deletion.
Android 1.6 also provides a much faster camera experience. Compared to the previous release, launching the camera is now 39% faster, and there is a 28% improvement in the time from completing one shot to the next.
VPN, 802.1x
A new Virtual Private Network (VPN) control panel in Settings allows users to configure and connect to the following types of VPNs:
L2TP/IPSEC pre-shared key based VPN
L2TP/IPsec certificate based VPN
L2TP only VPN
PPTP only VPN
Battery usage indicator
A new battery usage screen lets users see which apps and services are consuming battery power. If the user determines that a particular service or application is using too much power, they can take action to save the battery by adjusting settings, stopping the application, or uninstalling the application.
2.1 – Eclair
Android 2.1 debuted on the new
Nexus One
handset and was reached on other Android devices -- including the Motorola Droid, Motorola Cliq, and HTC Droid Eris. While Google calls the update a "minor platform release," Android 2.1 includes several interface changes that are sure to catch your eye.
Live Wallpapers
Those cool "
live wallpapers
" seen on the Nexus One are actually a standard feature of Android 2.1. The interactive backgrounds move in different ways: Some shift and swirl as you navigate around your home screens; others generate visualizations based upon music or finger-taps.
Additional Home Screens
Compared to the three home screens found by default in
Android 2.0
(and the slightly updated
Android 2.0.1
), the 2.1 release of Android gives you five home screens to fill with shortcuts and widgets as you wish.
Updated Home Screen Navigation
Along with the added home screens comes a thumbnail-based navigation system that allows you to quickly jump to any screen. You can still swipe left or right normally to move through the various screens, but the thumbnail system gives you the option to also see small icons of all five screens and tap directly on any one to jump straight to it.
New App Launcher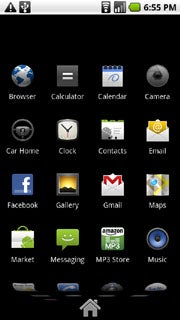 The standard Android app launcher gets a new look in the 2.1 release. Compared to the drawer-like look seen in previous versions -- where the app list would slide up from the bottom of the screen -- the 2.1 app launcher flies the icons in from the corners of the screen while fading in a dark background behind them. It then uses a rolling effect as you scroll down through the list.
Voice Typing For All Text Fields
Android 2.1 builds upon previous versions' voice-to-text capabilities by providing voice recognition for all text fields. As first demonstrated on the Nexus One, the expanded voice typing system allows you to do everything from sending texts to writing e-mails by simply speaking the words into your phone.
New Widgets
The newly black-colored system widgets introduced in Android 2.0.1 are present in the 2.1 release. Google has also added a widget that displays the latest news stories and weather on your home screen, then offers multiple tabs of news and weather information when opened in its full size.
3D Photo Gallery
The photo gallery in Android 2.1, developed with Cooliris, shows all of your images in a slick three-dimensional view. It also integrates two-way sync with online photo albums stored at Picasa.
Other Considerations
Neither Motorola nor HTC has announced an exact date for when specific Android handsets will receive the 2.1 upgrade. Motorola has, however, stated that all of its Android devices will be updated. HTC has mentioned the Droid Eris as an upgrade certainty and has suggested certain other models will also be included.
(During the Nexus One news event, Google Android guru Andy Rubin did say that some older Android phones may not be able to fully support the 2.1 experience, so it's quite possible that some of the early Android handsets may not end up getting the upgrade.)
2.2 – Frozen Yogurt (FroYo)
Android 2.2 comes packaged with a little piece of code called the
just in time (JIT) compiler
. A JIT compiler will increase the speed of Android and its applications by translating their code into a form that's much faster for your phone to run.
It's also believed that Google has performed some good ol' fashion code improvement that would make Android quicker even without the JIT compiler.
Finally, it has been confirmed that Google has updated Android's kernel to a newer version that consumes less RAM. More RAM for users means better application performance.
Google and Adobe have been working overtime to make sure that the mobile version of Flash 10.1 is ready for the limelight. Early previews of the technology on the HTC Nexus One, such as the video below, give a tantalizing glimpse of things to come.
Android 2.2 will likely allow users to finally store applications on a microSD card. This has been a popular feature request amongst Android users, particularly those with phones offering limited onboard storage.
Android Facts
A simple version of Android has over 12 millions of programming codes, consisting of 3 million lines of XML, 2.8 million lines of C, 2.1 million lines of Java, and 1.75 million lines of C++.
Each version are named as a pastries.
Although Google had freed Android from the kernel tree…Android kernel is based on Linux.
Android has done in a year and a half(2009-2010) what iPhone achieved since released in 2007 in terms of sales and popularity.
Over 50,000 apps have been developed officially.
Apple was and continues to be forced on re-adjusting it's app developing policy as Android have a more developer-friendly policy with less restrictions which is very attractive and motivating for developers.